ENTERTAINMENT
Gnaw the Zombie for a Change
By Sheila E., Grade 12 Fredericton High, Fredericton, NB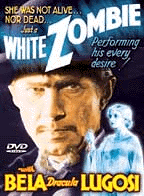 Past, Present & Future
By White Zombie
Geffen Records 2003
If you think you can handle the enthralling experience of the newest of the perverse White Zombie albums, then tune into this wild one and hold on for dear life.
Rob Zombie ( originally Rob Cummings) formed the band White Zombie in 1985. He named the band after the hit horror film of 1933 called "White Zombie" because of his obsession with horror and sci-fi films. Rob moved from his hometown Haverhill, MA, to New York City after he finished high school. He worked with his girlfriend Shauna on art designs for magazines before forming the band. The band was made up of Rob (vocals), Shauna (bass), Tom Guay (guitar), and Ivan dePrume (drums). Eventually Tom was replaced by John Ricci, who was replaced by Noel Yuenger and Ivan was replaced by Phil Beurstatte, who was replaced by John Tempestra. In 1990, White Zombie signed up with Geffen Records. The band's chief label debut album was La Sexorcisto: Devil Music vol.1.
In 2000 the band came out with Astro-Creep 2000. Supersexy Swingin' Sounds was next in line and contained Astro-Creep remixes and a duet with Rob's childhood idol Alice Cooper. The band provided their musical talent in the desert scene in Mike Judge's movie "Beavis and Butthead". Hellbilly Deluxe: 13 Tales of Cadaverous Cavorting Inside the Show International was the fourth hit album and an Hellbilly's remix called American Made Music to Strip By. For the Mission Impossible 2 soundtrack White Zombie wrote and recorded the song "Scum of the Earth". In April of 2000, Rob began working on producing the film "House of 1000 Corpses" for Universal Studios; however, the film was paused because Universal Studios claimed that the movie was "too dark and disturbing" for the release under their corporate releasing guidelines. Rob soon found Lions Gates Films to produce his work. His next album, Sinister Urge, included the vocals of Ozzy Osbourne in "Iron Head". His latest is the Past, Present & Future which contains all of his greatest hits.
The recording of this hard-core/techno music is very well done in a studio setting. The main guitar is definitely the main making of the music because of the sincere, powerful and clear quality of the music the guitar exerts. It now makes sense why the band has been through so many guitarists because of the apparent importance of the skill and talent that must be present. Rob has a very unique style and voice. When I listen to the radio I hear a new song of his playing for the first time I can automatically name the band. His music is unique not only through the guitarist and Rob's voice but also the lyrics and light techno that much of the songs contain.
"What is the purpose/Demonoid phenomenon/regulate the flux and reflux/so bring it on/loose upon the world/destruct a juggernaut/suddenly the rats are high/bleed the masses and watch'em cry/slumber like Houdini's dog/die alone out in the fog/iron head-regenerate/iron head-exterminate/iron head-liberate and crucify you/what is my name/demonoid phenomenon/laugh in your facand/break because/you don't belong/vent upon the brink/appear another demi-god/suddenly forever knowa/what it takes and it goes/paint it black inside your head/I defy what you have said"
Lyrics in: Iron Head ft. Ozzy Osbourne
This is one of my favourite songs by White Zombie because it, like few of the bands music, it is subtle in its meaning. This song is about being different, knowing it and being unsure of yourself at first but then feeling like you can overcome any flaws you have instead of changing them. Many of Zombie's lyrics are quite blunt like in the song "Living Dead Girl" and "House of 1000 Corpses" so there is not much thinking and analyzing to do when listening to them, just a whole lot of enjoying. It seems to be in White Zombie's nature to completely creep people out with their music and lyrics. When they are not playing heavy, fast-paced tunes they are playing slow, unpredictable spooky melodies. The most disturbing song I have fallen victim to is "House of 1000 Corpses" when there is a plot in the beginning with news stories explaining missing persons then the skit veers into a slow tune and Rob tiptoes in with a calm uncertain tone and speaks of really horrible kidnappers. Shauna does the voice of one of the kidnappers and her voice is a childish and playful but untrustworthy. Oh the nightmares!
In my opinion White Zombie's album Past, Present & Future really brings out the best of the band, give or take a few songs, and the music is interesting to listen to and keeps you on your feet. (Warning songs may not be suitable for all viewers.) I like to listen to music that makes me think and catch my interest by leaving me with a "what is next" attitude and that is definitely what this band does. They show really hard work in writing the lyrics and putting story lines into the same atmosphere as the music. If you are interested in spreading your horizons and opening up to the deep, dark, and disturbing, yet in many aspects fun element of life that is not generally expressed in everyday life, then this is the album for you and I both.
| | |
| --- | --- |
| | &nbsp |
Back to Front Page