PROFILE
A Glimpse Back in Time: 1986
The year most of this year's graduating students were born
By Fredericton High School students
World Events In 1986
By Jessica G., Fredericton High, Fredericton, NB
Many things happened in 1986 that should not be forgotten. Some of these things possibly changed the world as we know it today. One of the leading stories was a tragedy. It was the nuclear explosion at Chernobyl in Ukraine, and was the worst nuclear accident ever according to www.factmonster.com. Over 8000 people died during the accident and the time it took to clean up the mess. Many families that survived still have serious problems with their health and the health of their children. It also made a huge problem in trade for the people in Europe as a lot of food was infected by the fallout of the nuclear waste.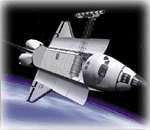 Another bad thing that happened was the explosion of the Challenger space craft just after it had taken off. The accident killed all of the crew and caused some set backs in the N.A.S.A space program.
On a happier note there was a new duke and duchess of York in 1986. Prince Andrew and Sarah Ferguson got married this year and according to www.tripletsandus.com it was a big to-do.
These were just some of the biggest news stories of 1986.
*****
Three Controversial Artists of 1986
1986 was the year that many artists were expressing themselves in many ways
By: Myles H., Grade 12, Fredericton High, Fredericton, NB
Controversial artists have been around for more than half a century. 1986 was the year that Madonna, Queen and David Bowie were among the most controversial.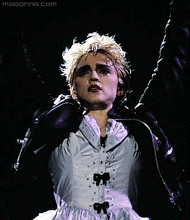 Madonna has been controversial since she came into the music scene, and continues to dominate the controversial crew at the ripe age of 44. According to msn.com, she preformed at the MTV Music Awards recently with Britney Spears and Christina Agularia and kissed them both. Her web site, www.madonna.com, tells of her album "True Blue" coming out in 1986. It included "Papa Don''t Preach", "Live To Tell" and other hits. The album was on chart for 82 weeks. Sales are estimated at approximately nineteen million dollars.
Queen came out with a ground breaking album for their career. Many of the songs on their 1986 album people still know to this day, almost twenty years later. According to www.funinspace.com, "Live Magic" was their album in 1986. It included such controversial hits such as "Bohemian Rhapsody", "Another One Bites The Dust", which was all about people dying of AIDS. "We Are The Champions", "God Save The Queen", and "We Will Rock You" are some other hits that came out on this album. All of these songs are still well known in the dance halls and clubs.
David Bowie has been in the controversial music scene since the 1960's. He went through his Ziggy Stardust phase which confused people everywhere. But he continues to make albums that surprise listeners worldwide. He did not make an album in 1986, but according to msn.com, he was in two movies, and went back to the music in 1987. He is worth mentioning, because he did a duet with Mick Jagger for Live Aid. There were many rumors about Mick and David.
1986 was filled with other controversial artists, and 2003 seems to have many of them too. Only time will see who we see in the future.
*****
1980s and those Wacky 'dos:
'Do-wacky-'Do'
By: Lana Mc., Fredericton High, Fredericton, NB
A little over a decade ago North America was charmed by the new ideas and fads that seemed to incessantly arise during those awe-inspiring years of the 1980s. Those years equaled new fashions, new music and, most importantly, new hairstyles.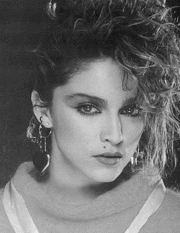 The Eighties hairstyles, as weird as they were, came in many and original ways. According to many sources over the Internet, some of the more memorable dos were the 'mullet', the 'bowl cut' and the 'mushroom cut' for the boys and the 'crimped style', the 'platinum blond with banana clips' and the 'stick-up bangs' for the girls. Many of those dos outlasted the 80's and quite a few unmentioned are still around today.
One of the most prominent reasons for this is simple. Some of us still admire what the Eighties brought. Some of us still admire the Eighties irresistible and unforgettable zest that always beguiled us into wanting to relive it all again.
"The Eighties hairstyles were highly original and unique," said Dave Mac., a grade 12 Fredericton High student, "and I wish they'd come back. I was a big fan of the 'mullet' and the 'mushroom cut'." The question is, did the Eighties hairstyles ever really leave? Like all fads, they come and go and, quite often, come back again. Though the 'mushroom cut' may be fully played out, that doesn't go to say that the 'mullet' or the 'crimped style' are. Who's to know if by tomorrow 'banana clips' and 'glitter' won't be back? The 'mullet'?
| | |
| --- | --- |
| | &nbsp |
Back to Front Page