ENTERTAINMENT
"Put This in your pocket"
By Caitlin R., Grade 10, Fredericton High, Fredericton, NB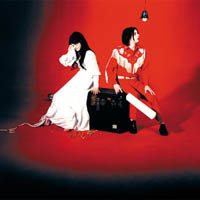 Album: Elephant (2002)
Artist: The White Stripes
Label: BMG
"In the cold, cold night", The White Stripes seem to still burn up the billboard charts with their latest album to date, "Elephant".
The White Stripes, which was founded in 1997 by two friends from Detroit, Michigan, USA. Jack White (John Anthony Gillis) who is lead vocals plays lead guitar and piano. Meg White (Megan Martha White) plays the drums in the group and has lead vocals in a few tracks on the album. Life long friends Mort Grim and Holly Golighty on back up vocals and other instruments also accompany them.
Jack and Meg have a musical style of their own which they've proven on previous albums "The White Stripes", "De Stijl" and "White Blood Cells". "Elephant", a studio album (which was made with no aid of computers or digital remastering) varies from track to track from different musical genres. If you want to listen to a punk or heavier track, than track #2, "Black Math" would be an excellent choice because of its rapid yet talented guitar solos. If you would rather a track that was relaxing and soothing, than I suggest track #7, "You've got her in your pocket" which seems to be my favorite single on the album because of its simple melody with only Jack White, strumming his acoustic guitar in sorrow. The lyrics in this song and many others on the album are very creative.
The White Stripes have very detailed lyrics on this album which seem to be non-sense when you listen to them but after a while, the lyrics seem to unravel into the hidden message of the song. Such as in track #10, "Little acorns", has a verse that makes little to no sense.
-"And another thing you have to know in this world. Cut up your hair, straighten your curls. Well, your problems hide in your curls."
If you read it carefully, Jack is trying to say that if you have problems twisted and curled inside of you, that you should fix them by cutting your issues at the seams.
This album, like many others, has some flaws. It lacks the lyrical quality that it achieved in their previous album. Also, many songs on "Elephant" seem to be very repeatiditive in the beat and tune. Yet that still doesn't seem to bring the album down because it's still very raw with talent. This is the best record up to date from the duo and will probably continue at this rate. So if your into charismatic music with hard hitting beats, than you should pick up this album and be excited for the up-coming album from The White Stripes.
| | |
| --- | --- |
| | &nbsp |
Back to Front Page