NEWS
Learning without Borders
By: SNN Staff and student photojournalist Melanie Collins, Grade 10, O'Donel High, Mount Pearl, NL
For most students in Canada having access to courses that interest you is a given. Most schools have all the science courses you may be interested in or advanced writing and art classes. Yet for some schools in rural Canada, that is not the case. In rural and remote parts of Newfoundland and Labrador, schools continually strive to provide greater access to high quality educational programs for their students so they can compete in the new global economy.
On Friday June 20th this endeavour reached another milestone thanks to a $15 million initiative announced in St. John's by Minister of Industry Alan Rock and Newfoundland and Labrador Premier Roger Grimes. The initiative is aimed at expanding high-speed broadband Internet access services to rural and remote schools and communities in the province. Each level of government will contribute $5 million towards this initiative with the remaining $5 million to be obtained from the private sector.
The press conference was held at Memorial University and was attended by representatives from provincial education organizations and regional development groups. The event was also broadcast live over the internet thanks to STEM~Net, Newfoundland and Labrador's Educational Multimedia Network.
Dr. Axel Meisen, President of Memorial University, chaired the press conference which began with a video presentation providing those in attendance with a glimpse of e-learning activities in the province's secondary education system.

In making the announcement Minister Rock stated "broadband access has the potential to enhance the quality of life for all Canadians, especially for residents of communities in rural and remote areas of the country. In particular, using broadband will provide this benefit through distance learning, tele-health, and e-business services".
The Project called 'Connecting Learners and Communities' will provide broadband internet services to schools as well as rural and remote communities across the province. In particular, this project will facilitate online distance learning and virtual classrooms for small, rural and remote schools.
The province's distance-learning program, provided through its Centre for Distance Learning and Innovation (CDLI), will coordinate and administer the project. CDLI uses a Web-based approach to deliver a form of distance education called e-learning. E-learning connects teachers and students scattered over a wide geographical area through telecommunications systems and computer networks. This will permit students from any number of schools in different districts to take a given course together, and interact with the teacher and with one another.
"The province is committed to ensuring equal educational opportunity for our young people, whether they live in a large urban centre or a small rural community, stated Premier Grimes." He went on to say that, "broadband infrastructure can also be used for other community applications, such as the provision of telemedicine services, on-line government services and e-commerce within the private sector."
Newfoundland Education Minister Gerry Reid was also on hand for the announcement. "CDLI was established two years ago and to date we have nineteen e-teachers delivering courses to more than 700 students province wide. This funding will help us build on this success, for the benefit of our children and rural communities," stated Minister Reid.
Following the official announcement and speeches by officials, Mr. Wade Sheppard, Director of CDLI, took to the podium to introduce guests to the 'Virtual Classroom'.
Guests were first shown what the Virtual Classroom looks like and then e-teacher Andre Hudson introduced his online Chemistry Class and gave a live demonstration of a classroom in action. Students who participated in the demonstration were: Melissa Budgell and Tenniel Boone from Cottrell's Cove; Kyle LeDrew (Scammell) in Change Islands; Jennifer Mullett from in Glenwood; Jennifer Hynes from St. Brendan's; and David Rumbolt from Mary's Harbour, Labrador.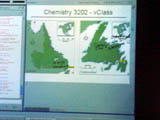 Minister Rock and Premier Grimes chatted with the e-students at the end of the demonstration and Rock asked the students how they felt about their e-classroom. The overall consensus of the students - the online course was enabling them to take a subject 'that would not have been possible' without the Virtual Classroom. "Without this course, I would not have been able to learn chemistry due to the small number of students at our school and no qualified teacher in the area" said one student.
In closing, Dr. Axel Meisen, thanked the federal and provincial governments for their commitment to distance learning and urged the planners and implementors of e-learning in the province "not to forget the parents as they are an important part of the child's learning experience".
Back to Front Page