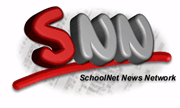 Student Journalism Award
St. John's, NL June 19, 2003.................SchoolNet News Network (SNN) today announced that three students are the winners of SNN's 2002-03 National Student Journalism Award.
The winners are:

1st Place - Jennifer Wu, Roncalli Central High, Port Saunders, Newfoundland & Labrador
2nd Place - Kayla Hounsell, Gander Collegiate, Gander, Newfoundland & Labrador
3rd Place - Brendan Kennedy, Brebeuf High School, Toronto, Ontario
The first place winner receives a cheque for $500 as well as an award. Second place, $300 and third place $150.
'The awards are based on a portfolio of journalistic work done by students during the 2002-2003 school year", stated coordinator Carmelita Joy-Bolger. "Throughout the award evaluation process the judges, who are professional journalists and journalism teachers from across Canada, found it very rewarding to see such quality writing. They were very pleased with all the articles submitted by students".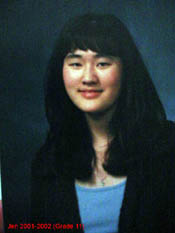 First place winner, Jennifer Wu, was surprised and elated when she received the call. "Wow! I can't believe it. This is awesome. Thank you SNN for providing me with such a great opportunity!" Jennifer has been writing for SNN for three years. She graduates from Roncalli in June and will attend Memorial University in September.
In selecting Jennifer as this year's winner, the judges commented on her bright, passionate and flowing writing style.

In particular Jennifer's story - "The Other 'N' Word" on what it is to be a Newfoundlander and stereotyping by other Canadians - won her the highest score given to any story in the award process.
Congratulations to the winners and to all students who participated in the SNN 2002-2003 Student Journalism Award.
___________




Back to Front Page