ENTERTAINMENT
Avril Lavigne
By Jessica S., Grade 10, Edmonton, AB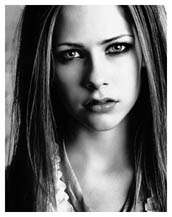 Avril Lavigne has only been part of the music scene for a short while, but already her popularity has spread across Canada and the United States. Born in Ontario, Lavigne's music can be heard on the radio, blaring from headphones and CD players, and on MTV. Her secret? Individuality and a touch of attitude.
Lavigne kicked it off with her first CD, Let Go. The CD starts with a powerful song, followed by the hits "Sk8er Boi, Complicated," and "I'm With You."
During media interviews Lavigne has told reporters that people are repeatedly trying to change her and her image. She won't do that, though. Her song "Complicated" easily puts fakers to shame, and she follows it up with "Nobody's Fool" where she clearly states nobody will be able to change who she is or what she stands for.
Avril Lavigne has managed to win millions of fans with her amazing vocals and self-played guitar solos. However, because of her individuality, she has also found herself a lot of enemies. Lavigne says she really doesn't care what people think of her, and when she says that you can believe her.
The inspiration for the sixth track on her album, Unwanted, came from the first record label she was signed to. They repeatedly tried to change Lavigne's appearance and sounds. They also tried to get Avril to sing pre-written songs from professionals in the music business. Lavigne refused to be changed by their persistence, and she eventually changed record labels because of the constant pressure.
Let Go is an awesome CD. Unlike Britney Spears and Christina Aguilera, Avril Lavigne has songs that actually have some degree of notable depth and meaning.
Avril Lavigne website: http://www.avril-lavigne.com/indexframes.html
Back to Front Page