SPORTS
Huge Hockey Talent Hits Fredericton
By Jeremy Campbell, Fredericton High, Fredericton, NB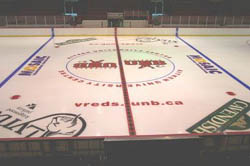 Some of the best young Canadian hockey talent will hit Fredericton when the Canadian Inter-university Sports (CIS) National Hockey Championship comes to University of New Brunswick (UNB), in March 2003.
The CIS National Hockey Championship will be held at the Aitken Centre, a major arena on the campus of UNB. Six teams will be coming to Fredericton from all across Canada. The Championship series will be held from March 21 till the 23rd. The Committee that is preparing for the event consists of: Chair, Roger Shannon; UNB's Athletic Director, Clint Hamilton; Les Chipperfield, Lloyd Henderson; Bill MacGillivary; Dave Morell; Sonny Phillips; Bob Skillen; Willy Scholten and Maureen Sparks.
There are four conferences in the CIS hockey League, and the winner of each conference will attend the championship. As the host team UNB will be included too, as well as a wildcard team. The wildcard is moved from conference to conference each year. This year it will come from Ontario.
At the Aitken Centre, the ice surface shows the Corporate Partner Logos for the season and sports the Nationals Logo at centre ice. Ticket sales have so far been very good. The Championship will bring people from all over the country. Ticket sales so far range from as far as Alberta and British Columbia to Newfoundland.
The favourites are very debatable, according to UNB's Athletic Director, Clint Hamilton, who says some of the favourites are University of Alberta Golden Bears, University of Western Ontario Mustangs, Université Quebec à Trois-Rivières le Patriotes, and University of Saskatchewan Huskies.
The tournament will bring a lot of attention to Fredericton and the Atlantic region. As the tournament will bring three-quarters to a million dollars a year to the local economy, it is a huge undertaking.
Clint Hamilton says it will affect the city in many ways. One way is a major symposium to be held in conjunction with this event, a coaches clinic. "We will be brining in profile hockey people from around the country, and North America, to talk about issues and to educate volunteer coaches around the community," said Clint Hamilton. "For the younger players, hopefully, they get the opportunity to see the best hockey in Canada, the best amateur hockey in the country. That may motivate a young player to go on to a university career, I think that's very important." he said.
It will also bring a lot of attention to UNB because the university will be covered on national television, for three days. That is millions of dollars of coverage and advertising for the school, said Mark Francis, Assistant Coach of the UNB Varsity Reds. Mark Francis is also a teacher at Fredericton High where he teaches phys ed., law and entrepreneurship.
Les Hull, the mayor of Fredericton, said this kind of championship is going to be just tremendous. "It will effect the city economically, especially the hotels, motels, food industries" he said. "I'm excited about it, it will create excitement in the city," said the Mayor.
The championship will have at least 2 games on national television, said UNB Athletic Director Hamilton. "We are working on getting a third game on now, but that isn't for sure," he said.
At the major Symposium there will be many big name speakers in the hockey business, such as Ron MacLean, CBC Sports journalist and host of Hockey Night in Canada, and Former NHL star Mike Bossy, and former National Team and NHL coach, Vice President, New York Rangers, Tom Renney.
This CIS championship could help motivate FHS Black Kat players to follow a university hockey career, whether it be here at UNB or elsewhere, says UNB's Hamilton. "Also, I think that the students at FHS, and the staff have a opportunity to really get caught up in the event's excitement. Like I said earlier, how many events come to the city, that can create that much excitement for a community?" said Clint Hamilton.
Leigh Buckley is a player for the FHS Black Kats Hockey team. He said he looked forward to the games being here. "I think high school player can benefit from watching a high tempo game, such as hockey at university level. I watch university hockey a lot, and I have watched it for many years. So I am excited by the nationals coming to Fredericton."
Hockey players aren't the only ones excited about the nationals, there are also a lot of students around the school that are getting excited, and who plan on going to the school to cheer on the Varsity Reds.
Here is a possibility. If St. Thomas University, a cross campus rival of UNB's went on and won their division, they would be in the championship, and perhaps play against UNB.
Mayor Les Hull says that would be a dream come true. "Having UNB, and St. Thomas University, two hockey rivals, on the hill, facing each other, that has got to be a tremendous challenge," he said. "UNB will be there as the host team regardless, who gets there as the second team, is anybody's guess. It is going to create a lot of excitement in university hockey, long before the tournament ever gets here," said the Mayor.
The Nationals will bring a lot of people to Fredericton. There will be hardly any hotel rooms left during those three days. Fredericton INN owner John Waite, said it is good for business. "We're hosting three teams, just with the teams, trainers, the hockey people. So we're expecting 30 - 35 rooms per team. When you add their alumni, you are probably closer to 50 rooms per team, we are booked out just by those three teams. We have 25 rooms to be flexible with, but I'm assuming that those rooms will be taken up by alumni too." he said.
How will the UNB Varsity Reds do? While nobody can know for sure, assistant coach Mark Francis is positive. "We have had a great season so far, and really we haven't seen the team's full potential," he said. "I was there in 99-00 when it was held in Saskatoon and we did very well there. We have come close three times. But basically if your team is hot during that week then anybody can win. So, yeah, I think we have a good shot at winning the championship," said the coach.
Back to Front Page