ENTERTAINMENT
Hear No Evil
By Allyson H., Grade 10, Fredericton High, Fredericton, NB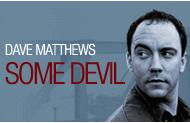 Some Devil
Dave Matthews
RCA Records
For his first solo album "Some Devil" Dave Matthews has proven himself to be just as good an individual artist if not better than when he is performing with his band.
The Dave Matthews Band (DMB) was formed in Charlottesville, Virginia in early 1991. The band first came together when Dave decided to put some previously written songs on tape. The band originally consisted of Dave Matthews (vocals, guitar), Carter Beauford (drums), LeRoi Moore (saxophone), Stephan Lessard (bass), Peter Griesar (keyboard) and Boyd Tinsley (violin). Both Peter Griesar and Boyd Tinsley left the band after a few years. The Dave Matthews Band has released seven albums Remember Two Things (1993), Under The Table And Dreaming (1994), Crash (1996), Before These Crowed Streets (1998), Listener Supported (1999), Everyday (2001) and Busted Stuff (2002). The band has also released five live dvd/vhs videos. DMB has created a highly interactive community by allowing fans to tape shows for their own personnel use. They are one of only a few bands to give fans this privilege.
DMB has spent an enormous amount of time touring across the United States and Europe between 1994 and 2002. One of the highlights was two sold out concerts in Madison Square Gardens in 2002, the band was joined on stage by rock legend James Brown.
His solo album was recorded in a little less than one year. Most of the songs were recorded at Studio Litho in Seattle Washington. 'Baby' was recorded at Bastyr University in Kenmore Washington. Additional recording was recorded at Studio X in Seattle. Since this album was recorded in a studio you get a clear sound that live albums lack. The album has an interesting sound with the use of many different instruments.
Dave wrote 'So Damn Lucky' after sitting in his backyard with family and friends, they were talking about a large old tree in his backyard. They were discussing the fact they thought the old tree might give up and collapse under the weight of its heavy limbs. As if the tree had been listening to their conversation it creaked, it cracked and collapsed. " I'm glad no one was sleeping under it at the time" Dave said, "but it did however flatten my canoe". The song 'Dodo' was inspired by the way the American culture view Adolf Hitler before the full furry of World War Two. "The view was quite favorable. It's strange how things change." Dave said.
If you have been a fan of The Dave Matthews Band and have enjoyed their previous albums you will find "Some Devil" slightly different, but it still has that distinctive DMB sound and feel. This album has a mix of light rock and some songs that are a bit heavier. Dave Matthews has put himself in the running as a solo artist and I'm sure he will do well, but I doubt we will see The Dave Matthews Band parting ways anytime soon.
| | |
| --- | --- |
| | &nbsp |
Back to Front Page