&nbsp
ENTERTAINMENT
Elephunk Packs a Trunk Full of New Sounds
By Norah K., Grde 10, Fredericton High, Fredericton, NB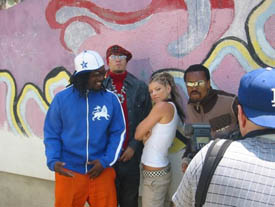 Elephunk
The Black Eyed Peas
Interscope Records (2003)
Will.i.am, Apl.de.ap, and Taboo have begun maturing in the usual way: with the help of a woman.
Of course, they've still got quite a way to go. While the first few songs on their new CD, "Elephunk", are all about partying, their first single since they got a new member, Fergie, the first female member of the Black Eyed Peas, was a deeper song called 'Where Is the Love?' about all of the hate in the world. The hip-hop band from L.A., consisting of many different races (black, white, Mexican, and Pilipino), has a broad musical range. The four singers are accompanied by four band members that play various instruments, including guitar, drums, saxophone, flute, MPC, trumpet, among others, that they use differently in every song. They have one song featuring pop star Justin Timberlake ('Where Is the Love?'), and one featuring rock band Papa Roach ('Anxiety').
This studio-made CD was produced and engineered mostly by one of the band's founding members, Will.i.am, with some engineering help from Dylan Dresdow and a few others. It was distributed in Canada by Universal Music Inc.
'Shut Up' is one of my favourite songs on "Elephunk". It is about not being able to stand your boyfriend or girlfriend anymore and breaking up. It sounds like a fight between Fergie and the boys, with Fergie singing the chorus. One part about the constant bickering starts out with Will.i.am singing, "Believe me, I will do well, let's forget the past, start this new play," and then Fergie responds with, "Why? Cause it's the same old routine, and then next week I hear them scream." The song fades out with Will.i.am saying, "Stop the talking, baby, or I start walking, baby," and then Fergie repeatedly asking, "Is that all there is?" You can hear the emotion in their voices so much that you can almost picture their frustrated faces. Throughout the song, the instruments are constantly contrasting the vocals. While Fergie is singing, "Shut up, just shut up, shut up," you can hear a powerful staccato drumbeat, but once the boys start up, that drumbeat subsides and you can hear a new one echoing Fergie's now silent shut ups. The only complaint I have about the song is that the instrumentation seems too upbeat compared to the theme of the song.
One of the things I enjoyed most about "Elephunk" is the variety in the songs. I like many different styles of music, and this is one of the best CDs I have ever found to cater to that particular interest. With all of the different vocalists and musicians on this CD, it would have been hard not to produce a CD with a wide range. Not only is there variety in the musical styles, there is also variety in the topics addressed in their songs. For example, 'The Apl Song', about Apl.de.ap's life growing up in a small village in the Philippines, 'Labour Day', a song about partying, and 'Anxiety', a song about being overwhelmed with angst, have three very different themes. Over all, I would say that, with all of its different styles, "Elephunk" would be a good CD for almost anyone. I know that in my case, I cannot wait to see how the Black Eyed Peas continue maturing on their next CD.
| | |
| --- | --- |
| | &nbsp |
Back to Front Page
&nbsp