NEWS
Rockin' the Rock: The ECMAs come to St. John's
By SNN Staff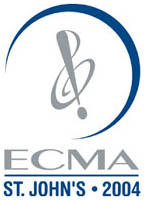 The sweet sounds of East Coast music hit downtown St. John's Newfoundland and Labrador this coming February. Dozens of performers from a diverse range of musical genres will rock St. John's when the 16th Annual East Coast Music Awards and Conference comes to town February 12-15, 2004.
Whether its blues, alternative, jazz, rock, traditional to hip hop, the ECMAs will have it all, and more. Performers from the four Atlantic Provinces (New Brunswick, Prince Edward Island, Nova Scotia and host province Newfoundland and Labrador) will appear in more than 100 showcases all over the city during the four-day music extravaganza. Check out the ECMA website for list of performances and other information http://www.ecma.ca.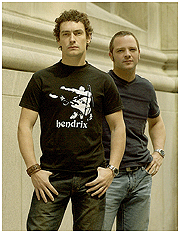 Performers Sloan, Jimmy Rankin, Matt Mays, and Damhnait Doyle lead the nominations with six each followed by Newfoundland's Crush with five nominations.
Newfoundland and Labrador comedians Mark Critch and Shaun Majumder will host the ECMA Awards Gala night 2004 with CBC broadcasting it live from Mile One Stadium on Sunday, February 15 at 8 p.m. (8:30 p.m. NT).
Under the theme, Ya Know Ya Gotta Go, The ECMAs will feature a 72-Hour Jam, Showcases and the Soundwaves school program. The Showcases include Sneak Peek Rising Stars Showcase featuring Barry Canning, Brothers in Stereo, The Ditchpigs, The Jimmy Swift Band, Les Muses, Shanneyganock, and Universal Soul. The ever popular Songwriters' Circle will feature Charlie A'Court, Erin Best, Gordie Sampson, Mark Bragg, Ron Hynes, Susan Crowe, and Barry Canning. This year's Acadian Showcase is particularly significant as it ties to the province's 2004 Francophone celebrations. There's also plans for an all ages show.
"Our nominees offer a little bit of everything," said Shelley Nordstrom, Chair of the East Coast Music Association. "This is an incredible year for variety, and I think it shows how over the last 16 years, this event has encouraged artists of all genres to excel."
This year's Entertainer of the Year nominees are Blou, Crush, Damhnait Doyle, Jimmy Rankin, and Melanie Doane. This award is a special one, as it is the only award in which the public has a say. While the East Coast Music Association membership votes on all other categories, the public can vote for their choice of the recipient sometime in January. Check out the ECMA website in January and cast your vote!!
The East Coast Music Association is a regional collaboration of representatives from the music industry in Atlantic Canada. ECMA fosters, develops, promotes and celebrates its music locally and globally. The Awards Show and Conference is an annual show recognizing some of the best performers and recording artists in Atlantic Canada.
Ya Know Ya Gotta Go. SNN will be there and will bring you coverage of all the happenings. Check out our February edition - online February 25th.
If you love music, then St. John's is definitely the place to be in February. Tickets for the Awards show can be obtained from Mile One Stadium in St. John's http://www.mileonestadium.ca/m1/default.html. For other events around the city or to volunteer to help out at the ECMAs (great experience....loads of fun), check out their website http://www.ecma.ca/ .
| | |
| --- | --- |
| | &nbsp |
Back to Front Page