ENTERTAINMENT
50 Cent Stays In The Game:
Violent Upbringing did not stop him from gaining success
By Alicia B., Grade 10, Fredericton High, Fredericton, NB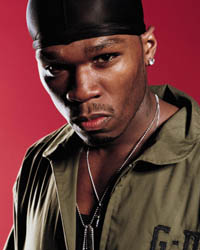 Get Rich Or Die Tryin'
50 Cent
Shady/Aftermath/Interscope Records, 2003
If you want to get the party started instantly, play any track of the "Get Rich Or Die Tryin" album.
Don't get it twisted, 50 Cent had to do what he did to survive. Now he is making music that is about the life he lived and that is going to give him the means to give his son a better life.
50 Cent's real name is Curtis Jackson; he is 26 years old. He was born in the south-side Jamaica, Queens, New York in 1977. He was raised without a father and when he was a teenager his mother was murdered under mysterious circumstances. He was brought up by his grandparents. In his 'shout outs' (tributes) he thanks his grandparents for being there for him. He was in and out of trouble with the law but settled down when his son was born. He then began to pursue rap seriously signing up with Columbia records in 1999. His career was going well until April, 2000 when he was shot in the jaw nine times. He spent the next few months recovering only to find Columbia Records dropped him. He didn't give up but recorded thirty new songs with no financial backing. The new released material was under the name 'Guess Who's Back?' The great boost to his career was when Eminem went on a radio show and promoted his record.
The quality of this CD is very clear. The lyrics are recognizable and not drowned out by the music. The music consists of drums, guitars which can be heard individually. His music is recorded in the studio where he uses lots of sound effects such as gun shots which sound realistic. 50 Cent's music has an angry chaotic sound which is reflective of his life.
If I fell off tomorrow would u still love me?
If I didn't smell so good would you still hug me?
If I got locked up and sentenced till a quarter century could I count on you to be there to support me mentally?
If I went back to a hoopty from a Benz, would you poof and disappear like some of my friends?
If I was hit and I was hurt would you be by my side?
If it was time to put in work would you be down to ride?
I'd get out and peel a 'nigga' cap and chill and drive
I'm asking questions to find out how you feel inside
If I ain't rap 'cause I flipped burgers at Burger King
Would you be ashamed to tell your friends you feelin' me?
..............
And always remember girl we make mistakes, to make it up I do whatever it take
I love you like a fat kid love cake
You know my style I say anything to make you smile
50 Cent is known to be one of the best rappers. As a rapper he has a sense of rhythm and beat but it is not his musical ability that got him this far. It is his hard work, energy, and his angry bad-boy image.

It is highly recommended that you listen to 50 Cent. His songs tell about his life; a life of violence. His songs reflect the black culture. The language is often foul and offending but his songs are well written. His songs are real - like him, they tell about life as it is. He has moved a culture into a new stratosphere, creating hard-core lyrics that both young and old listen to. Energy from his songs are contagious. The songs are upbeat and easy to dance to making it great at parties.

His songs are autobiographical; the story of his life. "Many men wish death upon me, blood in my eye dog and I can't see, I'm trying to be what I'm destined to be and 'niggers' trying to take my life away...." from the song , "Many Men." Listening to 50 Cent allows you to understand his angry and offensive lyrics. He is expressing himself through his music the best way he knows. His message will be understood by the black culture who have been raised in his situation. It is necessary to look beyond the offensive language to the soul of the artist and what he wishes to express. Once he has the attention of his listener, his willingness to change his life and overcome obstacles serve him as a role model. There is no doubt that 50 Cent will Get Rich or Die Tryin'.

Comment:

Well written and makes me more interested in 50 Cent.

Robbie, Age 12, Fredericton, NB



| | |
| --- | --- |
| | &nbsp |
Back to Front Page