OPINION
Iraq – The next Target
By Nira Diamant, SNN Editor, Tec-Voc School, Winnipeg, MB
From New York to Israel, the whole world is involved in what is best known as the War on Terrorism.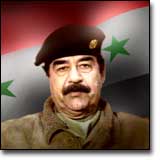 CNN recently discussed the issue of the U.N resolution on Iraq, a resolution Saddam Hussein has agreed upon. That is only if he strictly follows the wording of the resolution will Iraq not be the next target.
President Bush feels that by going into Iraq the U.S troops will capture Saddem Hussein. Is that really what will happen or is Bush declaring that there is a possibility for war in Iraq just to prove that the United States has all the power and everyone has to listen?
Some Tec-Voc students feel that although war may help us fight for freedom it will cause more negativity. "Declaring war will only give a reason for Iraq to use the weapons it is alleged to have", replied Douglas, a grade 11 student. "Why bother attacking Iraq? The Americans end up killing more innocent individuals than their actual target,"remarked Gabriela, another Grade 11 student.
"Canadians should not be involved, even if we are their allies. We don't want to increase the number of soldiers going to war. We do not want the chance of war in Canada happening in the future", says Lihn, a grade 12 student.
Others feel the attack on Iraq would be positive. "We should help the Americans because they support Canada and we should support the U.S,"explained Heather, a grade 12 student.
CNN also reported that President Bush and Canadian Prime Minister Jean Chrétien were meeting to address the issue of Canadian troops being involved in the war on Iraq. Bush wanted them involved, although to date Chrétien doesn't seem too thrilled about that idea.
The war on terrorism has touched everyone; if not physically, then emotionally. It has made us view life differently and be thankful for what we have. In order for everyone too move on in life we should focus on the present and not worry about what's to come or what is behind us.
Back to Front Page