ENTERTAINMENT
Dave Matthews Band Gets Busted
By Nicole B., Grade 12, Fredericton High School, Fredericton, NB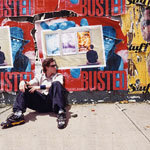 Busted Stuff
By Dave Mathews Band
RCA/ Bama Rags
2002
After a one-year hiatus, Dave Matthews Band is back with another album entitled Busted Stuff. Released on July 16th, 2002, the album includes eleven new songs catching the essence of the traditional Dave Matthews Band sound. Their first single from Busted Stuff is, "Where are you going", a slow melody that speaks candidly of a troubled relationship.
Early 1991, in Charlottesville, Virginia, Dave Matthews Band was formed. Singer, songwriter, and guitarist Dave Matthews, set out on a mission to find instrumental musicians to accompany his lyrics and music. Upon searching Dave found drummer Carter Beauford, saxophonist Le Roi Moore and violinist Boyd Tinsley. Keyboard player Peter Griesar became part of the band but only for a brief moment in the band's history. After only a couple of years as part of the DMB, Griesar decided to go his own way. Finally, Dave Matthews Band was formed with no indication of what success was in waiting for them in the near future.
Dave Matthews Band's first official gig was in May of 1991 at a roof top party in Charlottesville. However it was their first public performance at the Earth Day Festival in Charlottesville that gained them recognition and set their career into a whirlwind of success. Following their eye-popping performance at the festival the band began getting weekly gigs. Soon, everyone and their dog in the region was breathing, drinking and taking in Dave Matthews Band. Their fan base grew, they began to tour, covering more territory and the smooth sounds of Dave Matthews became the best thing since sliced bread.
In November 1993, Dave Matthews Band released their very first album entitled Remember Two Things on their Bama Rags label. The following year the band signed a deal with RCA debuting the workings of Under The Table and Dreaming, and began their first big tour. In April 1996 DMB released their second album on the RCA label called Crash which quickly debuted at #2 on the Billboard charts. They recorded and released five more albums following the success of Crash, in which three of the five debuted in the top 3 of the Billboard charts. Busted Stuff, released in 2002, debuted as # 1 and is currently at # 32 after 2 months on the top 200 Billboard charts.
Busted Stuff is a spectacular album that does not stray far from the traditional Dave Matthews sound. The style of Dave Matthews Band is that of alternative rock. Busted Stuff, like all other albums Dave Matthews delivers, are instrumental works dealing with matters of love. Lead vocalist Dave Matthews delivers a mellow and relaxed sound to his audience. With a soothing and drowsy voice their music is both catchy and enjoyable. Unlike a fair number of DMB's albums, Busted Stuff is studio recorded, not live in concert. The album has tracks that range from slow beats like "Grace Is Gone" and upbeat instrumental tracks like "Kit Kat Jam".
The lyrics that Dave Matthews conjures up deal with real life issues from falling in love to being heart broken. The words of Dave Matthews are both detailed and impressive, telling a story with each song. Catchy phrases such as; Take my eyes, Take my heart, I need them no more, if never again they fall upon the one I so adore, from the song "Grace is Gone", leave a poetic impact and make you crave more. The lyrics of Busted Stuff are inspirational and moving, capturing both your attention and your heart.
The band displays a strong instrumental basis. Throughout nearly every song performed on the album there is an instrumental break, to add a dramatic effect to the song. One song on the album, "Kit Kat Jam", is devoted entirely to their musical passion. Their instrumental background adds an interesting flare to a well-written, well-collaborated piece. Their sound is not manufactured; it is all hands-on, and that deserves some credible respect.
If you are looking for an easy listening style of music that will grab your attention, tell you a story, and inspire you, Dave Matthews Band's Busted Stuff is a respectable piece that will fulfill all of this and much more. The album has eleven great songs that are unique and interesting in several ways. Dave Matthews has a voice that is distinct and has a sound that is pure, which has put them as leaders of their style. They have managed to stay with their roots throughout the years; because of this they have developed a dedicated fan base and a lot of success.
Back to Front Page