ENTERTAINMENT
BBMak Attack
By Erin R., Grade 12 student, Fredericton High School, Fredericton, NB
BBMak
Sooner or Later
by Christian Burns, Mark Barry and Ste McNally Hollywood Records (2002)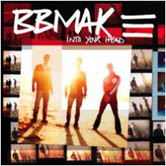 BBMak definitely cancels out all the usual comments about stereotyped titles of pop-rock, "Boy Bands". First of all they write their own music. Secondly, they actually play instruments. And lastly, they don't do any unnecessary choreographed dance steps. They are three amazing performers that combine beautiful pitch-perfect harmonies with guitar-driven melodies. These fresh, young musicians are, without a doubt, the complete package. Their first CD "Sooner or Later" is a compilation of surprisingly catchy tunes with genuine, heartfelt emotions.
Christian Burns, Mark Barry and Ste McNally grew up in Northern England and in their late teenage years, decided to make their common music aspirations a reality, and so, created BBMak. The trio never could have known how they would be accepted in the music industry. Not only are their voices sensational, but they write and produce their music while adding their amazing talents with instruments as well. They eventually became noticed at a local concert and signed with Telsar in the U.K. From there, they worked with well-known producers of the Goo Goo Dolls, Green Day, Robbie Williams and Bon Jovi. Their first success came out in Asia in 2000 with their hit single "Back Here" and on the charts in Japan, Thailand and Singapore. This song also debuted on the U.K. chart and on the magazine adult contemporary chart at number one. Not too much later, in America, they signed with Hollywood Records and topped off the Billboard top 100.
BBMak's CD, Sooner or Later, reflects a high standard of quality and can be classified into a mix between certain styles. This recording was preformed in a studio since it delivers a very crisp and clear sound. The guy's solid harmonies and all of the beautiful acoustic accompaniment hit the spot and leaves you wanting more. They selected songs that vary in tempos and styles to give more variety to the listener. Their music incorporates pop, rock and soul in such a unique way. They basically create their own unmistakable style. You feel that you are connected in some way with their songs and the way they are recorded and sung really make you feel at home. This is achieved by the guitars and their genuine personalities shining through. Though the focus is primarily on their music, it doesn't hurt that the members of BBMak are quite attractive.
The lyrics on this CD cover many different issues, mostly related to love such as break-ups, hook-ups and screw-ups. It is extremely helpful to be provided with all of the lyrics inside the booklet in the case to get to know them. The words written in all of these songs many people can really relate to and that is definitely how most feel about their music. In the heartbreaking song "Ghost of You and Me", if you ever have a break up with someone, you can connect to these words, "There's a name for what you put me through, it isn't love it's robbery, I'm sleeping with the ghost of you and me". You get the feeling that another person has gone through the same thing. The tempo rises in the uplifting song called "Still on Your Side". Even when you feel so alone, this song can be your "comfort song" — "When the whole would turns against you, ain't no lie, don't you know that I will stand up for you, no matter what you're going through, I'm still on your side". Fast crescendos and decrescendos provide a lot of movement and intensity. Not only do they console you in hard times, but the lyrics can boost your energy and keep you in good spirits.
BBMak's music is comprised of mostly them playing their guitars and generating very acoustic-sounding vibes. In some songs, Mark gets the chance to use his flute skills and uses that in the background to get a little different effect and feeling, such as the song "Always". Soft drums are used in another layer of the music, along with other subtle instruments. Nothing tops, unfortunately, the most noticeable thing that makes this band so great... their voices.
I know, without a doubt, that this CD has gotten me through some extremely tough times in my life and that I will never find another CD that could top it. Their soothing voices and catchy tunes have been on a constant rotation in my CD player because they make me feel better in many situations, and provide wonderful relaxation. If you like to explore another section of the large industry of "pop" music, BBMak might fit the bill or fill a void. They could be just what you need on your side.
BB Mak website: http://www.bbmak.co.uk/
Back to Front Page