ENTERTAINMENT
It's Hip to be Square
By Jane V., Grade 12, Fredericton High School, Fredericton, NB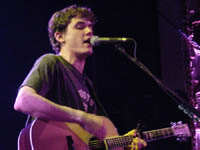 Room for Squares
by John Mayer
Aware/Columbia (2001)
There is a new face in folk-rock music bringing this great sound to the general populace.
John Mayer, who is now 24, was born in the state of Connecticut. Although you might guess he was a model, he is a soulful artist. He started to play the guitar at age 13. But after six months, when he still couldn't read music, his parents stopped paying for lessons. He yearned to be one of the great guitarists of the century like his idols, Jimi Hendrix and Stevie Ray Vaughn. John kept practicing since it could make him feel whole. His practice paid off and he was soon heading to Boston's Berkley College of Music. This did not last long for soon he was off to Atlanta where he would play at coffeehouses and small nightclubs, starting his career. Now he has two Cd's (Inside Wants Out, 1999 and Room for Squares, 2001) and a hit single, "No such Thing", that is topping the charts.
This singer, songwriter and guitarist says that he has always depended on his imagination. He also depends on this to keep him optimistic. Optimism is very important to John, who tries to enjoy life in "little 15-minutes segments." He says that's what makes his music so different from that of his peers; the angry, hard-rocking music; rather it is a folk-rock that can be compared to Dave Mathews Band or David Gray. Because John Mayer's voice is very soothing, his music is quite calming yet it has an uplifting rhythm leaving a refreshed, energized feeling. John uses a syncopated beat in many of his songs which make them rhythmically more exciting and unique. I also enjoy his use of the acoustic guitar in his songs.
John Mayer, though you can not tell by listening, is the great guitarist of this album and his ability to play the guitar and sing at once while maintaining great quality at both demonstrates the amount of musical talent he truly has. The quality of recording is also fantastic. The acoustics are wonderful, and there are no glitches in the sound quality. The backing vocals also add a very nice dimension to the music. I love the harmonies they use, again, very mellow and soothing. Most of John Mayer's songs have a definite climax at about the second to last verse, which is necessary for a lasting impression. Short instrumental solos are also found in the mid point of many of these songs. I enjoy these points because the soul of the music can be felt as the soloists "gets their groove on" by putting a spin and interpretation into the music. I also like how the ends of the songs aren't drawn out and overdone. The subtle use of strings (cello, violin and viola) are beautifully balanced in the song "City Love". I love this because it adds depth to the sound and overall je ne sais quoi of the song.
All the lyrics in John Mayer's Cd Room for Squares are very enjoyable. It is easy to see that they are very personal and reflect the person he his. I can particularly empathize with the song entitled "My Stupid Mouth".
The following quotes are passages I feel I and most teenagers can identify with: "My stupid mouth has got me in trouble I said too much again", "I'm never speaking up again. It only hurts me I'd rather be a mystery than she dessert me" and " So maybe I try too hard but it's all because of this desire I just wanna be liked, I just wanna be funny Looks like the jokes on me". I think almost everybody has been through a situation where they have had this kind these kind of thoughts running through their head. I find the lyrics from the song "Why Georgia" thought provoking. The following quote is repeated several times and seems to be the theme of the song; "Am I living it right". "Living it" is referring to living life. I often wonder if I am living life to the best of my abilities or if I am living it right. It also gets me thinking about what I can do to live better, or live it right.
This CD is a wonderful purchase because it can be appreciated by many different age groups since it has a classic folk sound to it. It is also soothing when in search of calmness, refreshing when in search of energizing and something completely different when in search a great sound of music. I also enjoy this CD because of the amazing musical talent behind it. The singing is fantastic, the lyrics are great, the guitarists are amazing and the end product is catchy, fun and inspiring.
Back to Front Page