ENTERTAINMENT
Finding Hope
By Lauren K., Fredericton High School, Fredericton, NB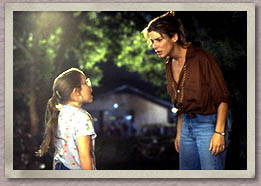 Hope Floats
Forest Whittaker (1998)
Hope Floats is a heartwarming story about following your heart and finding yourself.
Sandra Bullock plays Birdee Pruitt, a former beauty queen from Smithville, Texas. Her character had a life most would envy. She was pretty, popular and once knew how to shine. Then her husband reveals that he's been cheating on her with her best friend on national television while she sat there innocently thinking she was getting a free makeover. After this, Birdee's perfect life comes crashing down. A devastated Birdee packs up everything and moves back to her hometown with her young daughter Bernice (Mae Whitman) to live with her mother. What a makeover she ended up getting. Together the mother and daughter trio try to reassemble what was once their life. After some conflicts - her father's battle with Alzheimer's, her mother's sudden death, the funeral, Bernice's belief that her daddy will someday come back for her, and Justin Matisse's attempt to spark up the old flame that he and Birdee once had - they finally got their lives back on track and found the hope they had lost.
A key theme in the movie was the need for mother and daughter to communicate their love for each other and about how a woman with very few resources can rebuild an almost perfect life from scratch.
Many say Hope Floats was a real career booster for Bullock when she had some difficulty after making some bad choices. The character forced her to dig deeper to portray a woman who has to rebuild a life after a marriage failure. Bullock gave herself the challenge of acting in this movie. She gives a good performance to help her character find out there's more than one road to happiness.
Forest Whitaker's work in this movie is magnificent. This movie is one of my favorite movies because of the story. It relates to people in different ways. Many people have been through an experience similar to the one Birdee and Bernice went through in the movie. Whitaker clearly shows he's very good at handling this kind of movie. The movie has its sad parts and its happy parts and it definitely keeps you interested through out.
Despite how many people put this movie down, it still remains on my top list of good movies. The story ends with Birdee recalling advice often given by her mother. "Beginnings are scary. Endings are usually sad, but it's what's in the middle that counts. So, when you find yourself at the beginning, just give hope a chance to float up. And it will."
Website for the movie Hope Floats: www.foxmovies.com/hopefloats
Back to Front Page