ENTERTAINMENT
Eminem masters his own show
By Tasha B., Fredericton High School, Fredericton, NB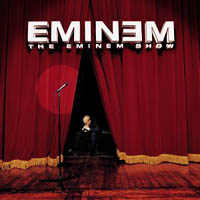 The Eminem Show
Eminem
Aftermath Records
5 28 O2
As one of the most controversial figures in hip-hop history, Eminem can be forgiven for being somewhat self-obsessed. The Eminem Show's opening cut "White America" sums up the notorious rapper's self-defense by keenly observing that while the color of his skin has something to do with his widespread popularity it's also the reason his lyrics are examined so scrupulously by critics who otherwise wouldn't bother. His anger is the anger of the suburban white kids across North America, and he's so clear about why it's them who are messed up and not us (Em and the suburban white kids).
When Mathers was 12, his mother finally settled down on the east side of Detroit. There, he attended Lincoln Junior High School and Osbourne High School, hanging out with friends and listening to artists like LL Cool J and the 2 Live Crew. Em found it difficult to make friends, and he retreated into his comic books and television. "I didn't really start opening up until eighth grade, going into ninth," he said, according to eminem-planet.net. In 1997, he released an album, Infinite, through a local company called FBT Productions. It was met with derision from the local hip-hop community. "I was getting a lot of feedback saying I sounded like Nas or Jay-Z," he admitted. The overnight success of his debut album, The Slim Shady LP, took the rap game to a new level, making him one of the biggest music success stories of 1999.
The Eminem Show finds Eminem to be more mature and focused, if not kinder and gentler. "Without Me", the leadoff single is fun-loving and jumps from one topic to the next. He has a willingness to shock the public and the world is hanging on his every word.
This time, Em isn't saying things just to get you mad. This time he's rapping because the world has pissed him off (...angered him?). On The Eminem Show, he isn't throwing racial aspect in listeners' faces. "To do black music so selfishly/And use it to get myself wealthy." he raps on the song, 'Without Me'. Eminem's weapon of choice is still his ability to counter critics by accepting his weaknesses and turning them into potent lyrical content.
"I'll never be Marshall again." It's clear that the Eminem identity allows him to fully vent his rage. In his continuing effort to show that he's as hardcore as any black rapper. Love him or hate him, Eminem makes no apologies, and The Eminem Show is as strong a statement as he's made to date.
Official Eminem website: www.eminem.com
Back to Front Page