ENTERTAINMENT
Bombs, Babes, and Bond
By Jason S., Grade 12, Fredericton High School, Fredericton, New Brunswick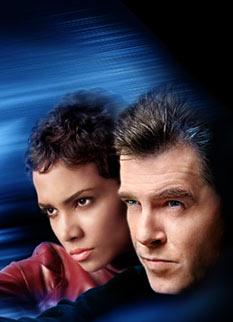 Die Another Day
Directed by Lee Tamahori
EON Productions Ltd. (2002)
It's everyone's nightmare; A madman with a nuclear device or some other form of weapon of mass destruction is threatening world domination. For secret agent James Bond, it's just another day at work. Pierce Brosnan returns as MI6's top agent James Bond 007, in what could be argued as one of his most dangerous assignments to date. What began as a simple mission to expose a military buildup in North Korea's Demilitarized zone, ends up to be much more. A North Korean general and wealthy English entrepreneur Gustav Graves (Toby Stevens) is sick of western influence in Korea, and wants to unite the two countries into one under communist rule. His right hand man; Zao, (Rick Yue) has the means for Gustav to succeed.
Someone set Bond up by exposing his mission in Korea, and he is after the one responsible. Along the way, he meets up with Jinx (Halle Berry), who turns up to be more than just a pretty sight for Bond, as well as Miranda Frost (Rosamund Pike), an Olympic gold medallist in fencing. The movie has some pretty convincing details. The movie looks a lot like a real espionage assignment. From a simulated attack in MI6 headquarters, to an invisible car, the details are realistic and believable. Although we have no idea what goes on in the spy business, it is as close as we are going to get. The villain's lair, a palace made entirely out of ice, was both impressive and unique. His tool of destruction and mayhem was brilliantly creative and believable.
Pierce Brosnan portrays the Bond character very well. Most spies like to blend into the crowd, and Bond just blends in nicely. Brosnan continues to keeps Bond's charm, as well as the punch-lines he makes at unusual situations, most Bond flicks has the spy's unusual sense of humor, and this movie is no exception. For example, Bond is in Gustav's lair as a guest at his party. He asks for his drink, Vodka Martini, and added "With lots of ice. If you can spare some." Toby Stevens's role as Gustav was very impressive; he played as if the role was made for him. The rest of the supporting cast, including John Cleese, who played "Q", Bond's gadget man, did an excellent job.
Director Lee Tamahori did an outstanding job in creating this story; he took a current world issue, like Korea, and merged it into the world created by Ian Fleming. With added action and comedy you would not normally see in a typical Bond flick, this was unexpected eye candy for me. Madonna did the title song of the movie, and it set the tone for the rest of the film, after hearing this, you would pick out certain elements from the song that is integrated into the movie. Of course, you cannot leave out the signature Bond theme, which, surprisingly, was not used that often this time. The camera work was unbelievably stunning. Most Bond flicks would have your standard camera work and aerial chase scenes. This time, they added some fast-forward action, as well as slow motion effects in unexpected scenes.
The special effects were really cool to watch. Another new addition to this apart from other Bond flicks were the use of more CGIs, as well as conventional SFX, but the CGI effects brought a whole new angle to this film. The SFXs are an eyeful, but you wouldn't have much of a Bond film without it.
This is to date, the best 007 film I have watched, the new camera work and CGIs made this a work of art. The drawbacks however were the near absence of the Bond theme music, as well as Bond doing less gunfights, and more fist fights. Should Bond give up his gun for a pair of brass knuckles? Other than that, the action scenes were done very well. MGM continues to give fans the same 007 films we all love, with all the usual side dishes: lots of beautiful women, a madman who wants to start a war or threaten global domination, and a wise cracking British spy who cannot put business before pleasure at anytime. This is a must see for any and all 007 fans!
Check out the James Bond website at: http://www.jamesbond.com
Back to Front Page