ENTERTAINMENT
Rasa Dazzle
By Matt Murphy, Holy Heart High School, St. John's, NF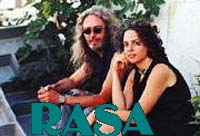 As I was singing in the weekly Holy Heart of Mary Chamber Choir rehearsal, all I could think about was my interview with the front man and woman of the ever growing local adult alternative rock band Rasa. As the musical session came to a close, I glanced at my watch and began to panic. I was 15 minutes late for our rendezvous at Classic Café West on Duckworth Street, downtown St. John's.
I pushed my way through my fellow choir members in delirious exasperation, hopped into my awaiting car, popped in Rasa's first and only album, as of now, Neoprehistoric, and bolted for Classic Café.
I entered the café and was almost star-struck to see Sandy Morris, the 54 year old Rasa guitar prodigy, and Erin Best, the 24 year old singing sensation. They were tucked in a corner booth next to a roaring propane fireplace and were immediately adjacent to the large front window. As Erin finished off what appeared to be bowl of French Onion Soup, and Sandy snuck one of her fries, I clumsily introduced myself to the both of them and apologized for my tardiness. I sat down beside Mr. Morris and across from Ms. Best and quickly began to learn that this band is not just another emerging local bar band but are a tight group of very interesting, unique individuals who make up the cream of the musical crop.
The first thing anyone ever asks me when I talk about this phenomenal ensemble is, "What does Rasa mean?" Regretfully, I never knew the answer; so I asked Erin. "Well, I did a Religious Studies minor at McGill University," she began, "and Abby Nabergupta, a Hindu writer/philosopher, wrote a 'Rasa Theory' which applies to all the arts and he uses it as a way to describe how and why a piece of art makes two people connect."
To exemplify, she applied the Rasa Theory to a musician and a listener. She said that the level at which they connect or "understand each other - that's Rasa." She continued by saying that this level is almost euphoric. "You feel liberated from your everyday life and you experience the afterlife momentarily." Mr. Nabergupta feels that this is the purpose of the arts in general, and if so, this band is very well suited for such a title.
Erin and Sandy began creating music together about 3 years ago, and in the time frame between then and now, the other members of the band have remained fairly inconsistent. However, last year they put together a hand-picked crew of musicians for the East Coast Music Awards show, at which they were nominated for Best Pop Rock Group, and Best Immerging Artist. This talented ensemble includes Scott Mansfield on drums, Patrick Cashin on bass, and Steve Power on rhythm guitar. These are said to be the final members of the band and all agree that they plan on taking Rasa as far as it can go.
Scott Mansfield is the drummer for Rasa and according to Erin, he is, "one of the most in-demand session drummers in town." He was a student at Memorial University of Newfoundland (MUN) and has performed on cruise ships for a number of years. Scott also has a great vocal talent.
The 19 year old Patrick Cashin is currently studying classical piano on scholarship at MUN and was described by Sandy as, "prodigious - he's a prodigy." He also works with Spirit of Newfoundland along side of his band-mate Steve Power.
Steve works locally at the dinner theatre and is also Erin's current boyfriend. (Keep in mind that you will not find any of these names on the album - they were recruited after it was recorded.)
Despite the fact that Rasa is a five piece band, there is a two person front, consisting of Erin and Sandy. This dynamic duo were the founding members of the band, and because they do all of the administrative work within the band which includes song writing, advertisements, public relations, and a long list of other duties. Sandy says that it was just the way it worked out and that when Rasa was just the two of them, they, "really didn't have the intention of having a band." In some bands, this uneven distribution of publicity would induce some conflicts amongst its members. However, this group is so tightly knit that the backing members understand the reasoning behind this situation so such conflicts are non-existent.
With influences that include everything from Nickleback to The King Singers to Built to Spill to The Punters, it is hard to categorize Rasa in terms of genre. "We would never bother to define ourselves if we didn't have to," begins Erin, "but right now we're doing a radio campaign, so we have to define ourselves as Adult Alternative."
In the past, they have also been classified as Easy Rock or Adult Contemporary, "Which isn't as nice as Adult Alternative," she continues, "but our sound is definitely moving and we've always considered ourselves to be a rock band."
This problem of being typecasted into a restricted and stereotyped genre eventually leads the way for other problems. One of the biggest resulting problems being a major contrast in the audiences they are trying to appeal to and who actually listens to the music.
Under such titles, many people who have pessimistic opinions about Adult Contemporary music, for example, would not even consider giving this band a chance. Therefore, their audience is limited to people who listen to and enjoy this Adult Contemporary. Even then, they're not guaranteed a large audience because not all of these people are going to like Rasa's music. Heck, they're not even Adult Contemporary; they're Adult Alternative according to the band. "It's weird," says Erin.
People living in Canada always take the Canadian music industry for granted. Musicians who begin their career here have a huge advantage that people who begin their career in the states don't have. Erin Best comments, "The music industry in the states is like black and white compared to here. It's like a different industry all together."
Because of the ridiculously insane "cut throat" competition in the United States, it is very rare to hear a song by a local band played on the radio or get much publicity at all due to the unreal number of musical competitors. Down there, a band's only hope for survival is to be swallowed up by some major label like MCA or Columbia.
In Canada, however, it is very rare to find a city or town that doesn't support local talent. "Canadians have a whole different way of looking at it. The entrance doors are completely different," she elaborates. Rasa has even begun "cultivating a market down in Boston" and they are headed back down there for some gigs on the 10th of April. They both feel that the Canadian music industry has certainly given them a leg up on their American competitors. Not only did they get this extra boost, but Rasa has always been completely independent and can therefore maintain 100% creative control.
The band released its first album last year through Festival Distribution, and despite the obstacle of a limited market and the fact that they are a new band entering onto the music scene, they have sold over 2,000 records. Sandy says optimistically, "We're looking at trying to sell ten thousand across the country by the end of next year." This goal is not at all unrealistic for this phenomenal band to achieve because in some areas where they have started to develop a number of fans, they haven't even released the album. For example, there is only one privately owned record store in Boston that has "Neoprehistoric" and they only have eight copies.
Neoprehistoric is a very strange word and people often wonder what it means. Actually, it's not even a word. "It is a logical conjunction of words," says Erin, who coined this term. She says that it is inspired by a writer from the 1970's by the name of Marshal McCluan - the same man who coined the phrase "The media is the message" and the term "Global Village".
According to Erin, his works are really worth reading. In summary, this man was the first of many who studied the effects of communication and the various methods of communication on society. "In the middle ages," Erin begins, "society was governed by literary tactics - everything was letters and how you communicated was through letters and books and stuff like that." She continues on with her explanation by saying with the emergence of inventions such as the telephone and the internet, we are becoming "retribalized" in that we are "moving away from the written word - by far". Today, most of our methods of communication are either audio oriented, like the phone, or very visual in terms of photographs or art, like in magazines. "People aren't just reading books, there are a lot of images and a lot of conversation…and even travel," Erin explains, "has the same effect."
Prehistory is defined as the time in history before the written word. Erin says that we are approaching a modern prehistory in that the written word is not as prevalent as it was before; thus she describes this approaching era of retribalization as "Neoprehistoric".
Why such a profound title for an album? How does this title reflect Rasa? Well, Erin feels that, as she grew up in Newfoundland, she was "trained musically" not through studying books but through her family and friends. She says, "This is a totally tribal way of learning how to do something and that something has become the focus of my life. So I'm really retribalized to a major extent." Therefore the music that Rasa creates is a product of this Neoprehistoric age.
This album contains 10 Rasa originals along with one Wayne Carson Thomson cover: "The Letter". In this interview, I gave way to curiosity, and as amateur as it was, I had to ask what their favorite was. I was pleased to hear both of them immediately sing out in unison, "Shades of Blue". They said they wrote this song while they were in a sort of "writing groove". "We wrote it on purpose but at the same time it wasn't hard to write," Erin comments.
They both agree that the level they were at when they wrote Shades of Blue is the level that you should be at when you are writing a song. "That's where you want to be when you're doing this as a career," Erin explains and continues to say, "You know, when you can go and say, 'Let's go write a song,' and two hours later, you got a song."
This song is certainly a favorite of mine because of its poetic lyrics, its touching story, and its funky guitar riffs, all of which are characteristic of all of Rasa's creations.
Sandy says that the band is just about half way through writing their second album but won't be recording it until next summer. It will be released in the fall of 2003.
Rasa, as was discussed earlier, are always on the road. It you ever see or hear anything about them playing in your town, I would highly recommend that you check it out. If for some reason or another you can't make it to the show, fret not; for Mr. Sandy Morris himself told me personally that he plans on take the band as far as it can go. "The sky is the limit," he said, and for this outstanding group, the sky seems awfully restricting if you ask me.
See you at the show.
Back to Front Page