NEWS
P-C-A…Power Cheerleading All the Way!
By Lesley Tse, Grade 12, Father Michael McGivney School, Markham, Ontario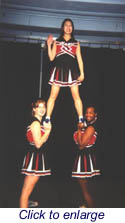 Gone are the days when cheerleading was all about ditzy girls in short skirts, jumping up and down in the sidelines, shouting "Rah rah rah!" into megaphones and waving pom pons, to cheer on the boys' teams during competitions. Like dance and gymnastics poured into a blender at high speed, power cheerleading even has its own lingo to describe and name the incredible athletic feats, like an 'elevator' where two people hold up a standing person up at shoulder level. Cheerleading has begun to leak its way into Canadian high schools from Edmonton to Ontario, often called spirit squads, but don't think it's anything like the old stereotype. Sure, you can still find them revving up the crowd and those short skirts and pom pons still exist, but now cheerleaders have their own competitions! They often train for hours about two to three times a week, putting in tons of hard work and dedication to perfect routines that squads hope will give the title of being the champions.
Cheerleading camps and coaches can be great assets to improving and learning new stunts (any skill or feat involving tumbling, mounting, a pyramid, or toss), and squads can choose to find a company like FlyGirl (www.flygirl.ca) to build a new squad or choreograph routines. As for cheering on the boys?
Boys are on the squad! Lifting girls over their heads with one hand and performing backflips and standing back tucks, they are trusted with people's lives when catching the people tossed and elevated in the air. To stay a part of the team, many squads have rules that require the participant to keep above a certain grade point average.
To find out more about cheerleading, you can go to About.com's site (http://cheerleading.about.com/) that includes a glossary of cheerleading terms, cheers and chants, along with tips on becoming flexible and squad bonding.
Back to Front Page