PROFILE
Tourism in Newfoundland
By: Erin R., St. John's, NF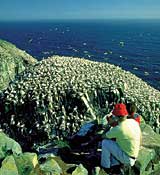 Newfoundland is the most easterly province in Canada. Not only is it filled with friendly people, great food, and exciting entertainment, but it also has a rich and detailed history.
For these reasons and many more, more and more tourists travel to our beautiful province each year. Some come not knowing much about the place, or what to expect but in the end leave with a smile on their face and many wonderful memories.
How To Get Here


A Newfoundland vacation is only a few hours away by commercial airline. Air Canada operates a regular service that connects with most major centers in North America and Northern Europe. Local airlines provide convenient air travel between major points within the province. A touring holiday by motor coach, car, bus or motor home is just as convenient. Marine Atlantic operates modern car ferries all year round from North Sydney, Nova Scotia, to Port aux Basques, Newfoundland. Throughout the summer, a second ferry from North Sydney to Argentia is added to accommodate visitors to the eastern part of the island.
Things To Do On The Rock


While here, you'll find there's plenty to do to make your stay much more enjoyable. For example, while here you could visit many of our historical sites. Sites like Signal Hill and Cape Spear, to name a few. Also, if you'd like, there are many walking tours, scenic tours, and boat tours for your enjoyment. Experience traditional food, local museums, provincial parks or campgrounds, and much much more!!
For more information on Newfoundland, check out Tourism Newfoundland

(Click on photo to enlarge)
Back to Front Page